The concept of the Client Value Proposition (CVP) can be a slippery one for many advice businesses, who tend to reduce it to a mere marketing slogan or mission statement. But the key to a great CVP is in thinking of it as a framework for your entire business. 
Yes, you can dream up a simple tag line and call it a value proposition – "We help successful people make smart decisions about money" or "We help people live their best possible lives" or "In a complex world, we offer clarity, insight, and partnership to help people get on track and stay on track to achieve all that's important to them". 
But those slogans will work only if they come at the end of a detailed examination of your business - what you stand for, who your ideal clients are, the benefits you can bring to those clients, the process of delivery, how they perceive that service and how you stand out. 
In other words, innate understanding comes before articulation. This means the CVP is as much a process as an outcome. It underpins and drives every element of your business from back office to front office, from systems to marketing, from management to measurement. 
Think of the value proposition as a consistent thread that runs through every aspect of your business, tying elements together into a chain of value creation that builds into a compelling proposition for the market you are seeking to service.  
Put simply, the CVP becomes Your Way. It is what emerges from the client experience from beginning to end. And if you get those individual threads right, you will find that the right set of words will emerge almost organically from the process. Articulation becomes the final step. 
So let's break down the process into seven stages: 
1.    Values. First, you have to be clear on your own core values. These are a small set of guiding principles. They matter because without clearly articulated and internalised values that govern all your interactions with clients, you won't be able to build a successful culture and deliver real value. 
2.    Ideal Clients. Second, you must be clear in your own mind about what sort of clients you are targeting. If you don't know and understand those you are trying to service, you are unlikely to meet their needs. So profile your ideal clients, identify what they require and tie your services to that.
 3.    Skills stock take. Third, rigorously assess your skills and expertise. List not only your strengths but your weaknesses. While you can never be everything to everybody, you still need to map your capabilities against the requirements of your desired market. Accentuate the strengths and seek to fill the gaps. 
4.    Client benefits. Fourth, start to list the various benefits you will offer clients. Be mindful to include the 'above the line' (mainly intangible) benefits related to meaning that clients feel, alongside the 'below the line' (mainly tangible) deliverables related to money that clients routinely expect. So below the line might be asset allocation, rebalancing and cost management; above the line will be peace of mind, a sense of control and clarity.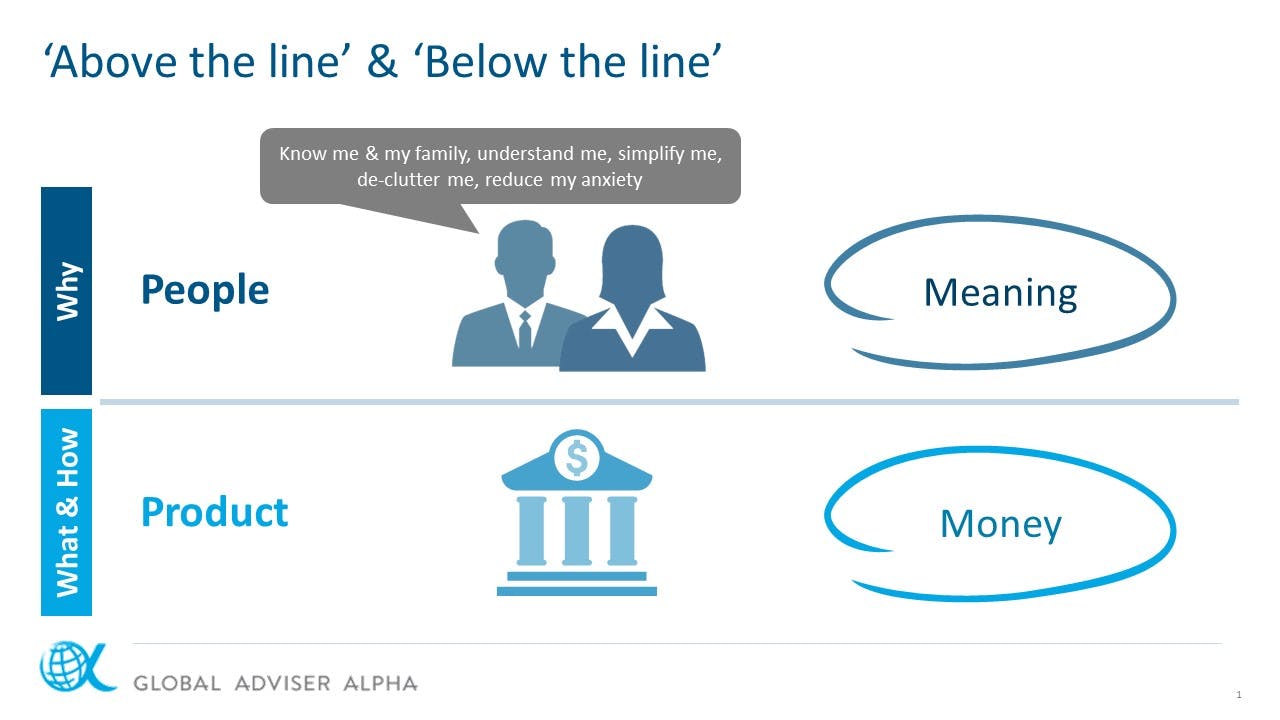 5.    Client Segmentation.  Fifth, having identified the myriad benefits and services you offer, start to break it all down in terms of client services, segments and pricing. Of course, you want to deliver value to the client, but you also need to ensure that the client is delivering value to the business.  And that comes back to clarity about different client needs, the level of servicing to satisfy them and the appropriate pricing to reflect the value delivered.  
6.    Process. Sixth, we move to the 'how'. Design an end-to-end process that maps the client journey and what happens at every step. When you land on your process, you need to build it out in significant detail, including who does what and when at each stage, the documentation and communication required and the time invested. The more you systematise your process, the better able you are to customise the advice. My own recommended process is  detailed in the graphic below, but you will need to adapt for your own requirements.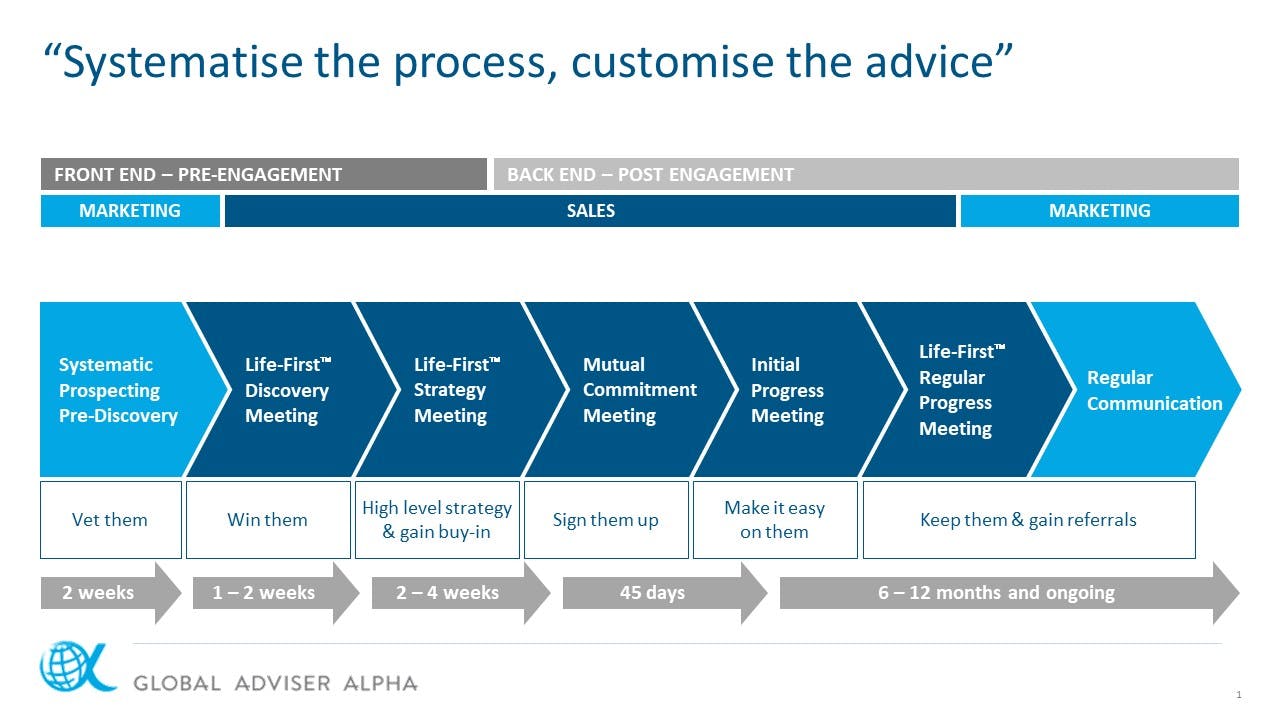 7.    Build it out. Seventh, and finally, you get to the fun part of articulating in simple words what all this means for the client and how it makes your business stand out. Start with a clear statement: For example: 
·         We provide structure for people's material lives so they are clear about their goals, their choices and trade-offs, and how to achieve their best life possible.  
Then break that down into bullet points: 
·         We first seek clarity to understand you and your family
·         We provide a comprehensive assessment of your position, preferences and possible pathways.
·         We provide insights and recommendations to help you manage risk, maximise opportunity, and deal with changing times.
·         We do this using a unique partnership process that provides you with confidence, clarity and comfort at every step of the way. 
From there, you can build out your PowerPoint decks, website, white papers and other marketing materials all with a view to that value proposition.  
A client value proposition is not set in stone. After all, things constantly change in people's lives. That's part of why you offer what you do to people, helping them deal with the flux of life. And that's also why you may decide to emphasise different elements of the proposition at different life stages. Words like 'opportunity' may feature more in the earlier years; words like 'security' may be more emphasised in the later years. 
The most important point to remember about the CVP is that it's where the client thinks you add value, not where you think you do. So start with a clear sense of who you and what you do. Then move onto who you want to service, what you want to deliver and why. From there, design the process. Finally, articulate the value and ensure it is expressed in every aspect of your business. 
Ultimately, the clarity and confidence that your clients feel will be a reflection of the fact that you are so clear and confident about what you deliver and why.
Need help to build your CVP out? Our Program will help.
Information on our Program - Online or Facilitated alternatives
While many practices survive, they don't thrive in the way their principals imagined when they set out. What about you?
Poor work life balance?
Limited Growth?
Too little profit?
Limited earning?
There is a better way. Is this your time to move to a more successful future?
I have helped thousands of professionals to:
Achieve significant growth in revenue and profitability
Build or improve systems and processes and be more in control
Attract and retain the right clients and team members, and
Move from a practice to a genuine business
The results speak for themselves. Benefits in 12 months for those that have done the program and implemented are:
New clients up over 100%
New revenue up over 120%
Prospect to Client conversion up over 250%
Ongoing revenue up over 130%
AUM - average client up from $379k to $784k – over 200%
The Program includes 6 modules, over 27 videos, over 38 global best practice templates, scripts and agendas, along with quizzes, FAQ and text. All that can be worked through and implemented at your own pace and timeline.
All for the cost of less than one new client.    
Why wait? To invest in your future, the time is now.
For further information on the Online Program or to join, click here.
There is also a Facilitated Program with the same online content as the Online Program, but with facilitation including
a monthly 4 hour group session (zoom)
a monthly individual session (zoom)
24/7 access via WhatsApp group chat
plus me to guide you through it and smooth out any road blocks.   
Subject to a quorum, we kick off our Facilitated Program half yearly. Register interest online or email david@globaladviseralpha.com with any questions.